Covid – 19 Update Information

COVID – 19 Update:
Dr. Jeffrey Brown Weight Loss Clinic has implemented extra sanitary precautions and preventive measures while maintaining high-quality care in our office. The health, safety and well-being of our staff, patients and community are of the utmost importance to us.
If you, or someone in your family, has exhibited flu-like symptoms such as fever, cough, shortness of breath, severe muscle aches, shaking chills, or recent loss of taste or smell, DO NOT ATTEND the appointment.
Please contact us at (905) 771-7771 or email drjbrown@doctorjeffreybrown.com for rescheduling options.
---
We will diligently screen for COVID-19, both by phone at the time of booking and when patients present to the clinic.
Patients must use hand sanitizer before entering and upon leaving the clinic.
All patients and accompanying persons
must wear a face mask
(cloth or medical)
upon arrival and for the duration of their visit
. If you don't have a mask you may purchase one from us for $2.00
No food or beverages allowed inside the clinic.
Patients are advised to attend their appointment unaccompanied. Only if a patient has difficulty ambulating will a family member be able to enter the clinic.
Other family members can wait outside the clinic (e.g. in the car, in the building lobby or outside the building) but not in the waiting room.
Patients entering the clinic will be required to stand/sit 6 feet apart from one another in the waiting room. This will apply in clinic rooms, waiting areas and hallways
We have set up hand hygiene stations with hand sanitizer throughout the clinic. Clinic rooms will be disinfected between patients.
Installation of plexi-glass dividers at the front reception desk are in place to better protect our staff and patients. All health cards will be scanned visually (i.e., "hands
free").
If possible, patients will be immediately put in a clinic room where available, trying to avoid time spent in the waiting room. If not possible patients will be asked to
take a seat in the waiting room following social distancing guidelines.
Physicians, and staff will be wearing personal protective equipment. Avoid handshaking or any physical contact with any of our staff.
When paying for supplements, contact less payment preferred (debit or credit card).
Your health and safety are our primary concerns. Please note that while we do our best to minimize the risk of COVID-19, by entering this office, you are acknowledging that all exposure risk cannot be eliminated.
---
WE HAVE SOME EXCITING NEWS TO SHARE!
WE HAVE BEEN ASKED TO PARTNER WITH THE JACK NATHAN HEALTH CENTRES WITHIN WALMART'S TO FEATURE AND DEVELOP OUR WEIGHT LOSS PROGRAM.
WE MOVED TO A NEW LOCATION AT:
8300 HIGHWAY 27 WOODBRIDGE ONTARIO L4H 0R9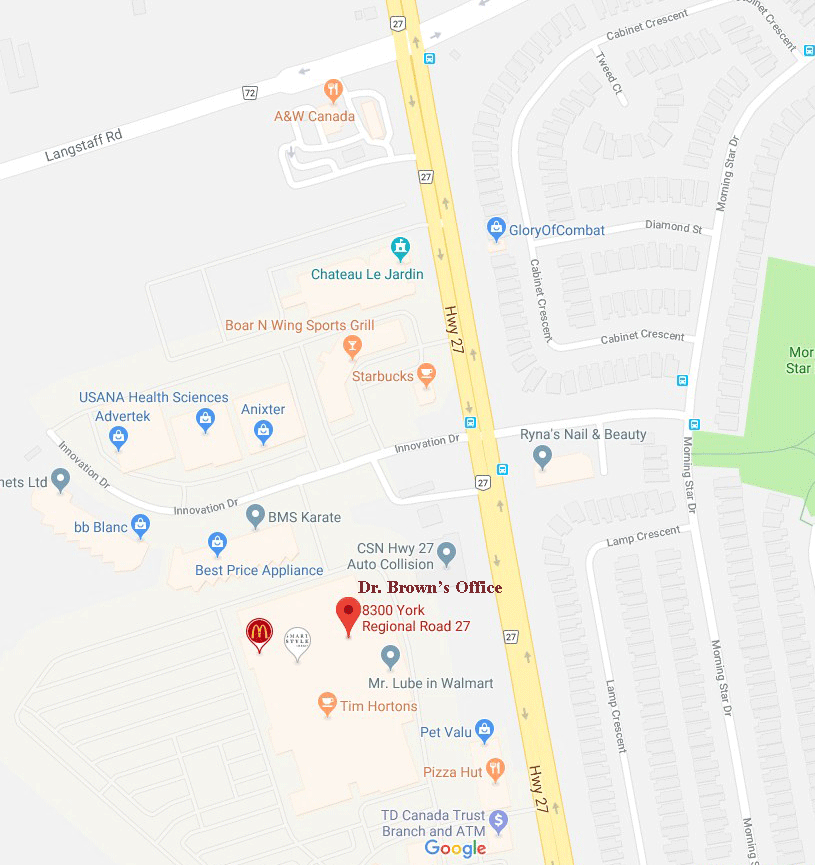 WE WILL HAVE AN ONSITE LABORATORY IN ADDITION TO OTHER ALLIED PROFESSIONALS AND SERVICES. PLEASE VISIT OUR WEBSITE IN THE NEXT WEEKS FOR MORE DETAILS.
OUR MISSION IS TO CONTINUE TO PROVIDE WEIGHT LOSS THAT IS FAST, SAFE AND BECA– USE YOU ASKED FOR IT
FULLY FUNDED BY OHIP.
OUR CLINIC HOURS WILL BE 7:00 AM- 3:00 PM MONDAY- FRIDAY
OUR TELEPHONE NUMBER REMAINS 905 771- 7771
OUR WEBSITE IS : doctorjeffreybrown.com
Unsubscribe instantly from these emails by clicking here.
[[tracking_beacon]]
Forward this email to a friend.
Received this from a friend? Subscribe.
Email look weird? View it on the web here.